Programme
PRELIMINARY PROGRAMME IS NOW AVAILABLE FOR DOWNLOAD HERE
Updated on October 19
NOTICE TO AUTHORS | DEADLINE TO SEND YOUR PRESENTATION : OCTOBER 14th, 2022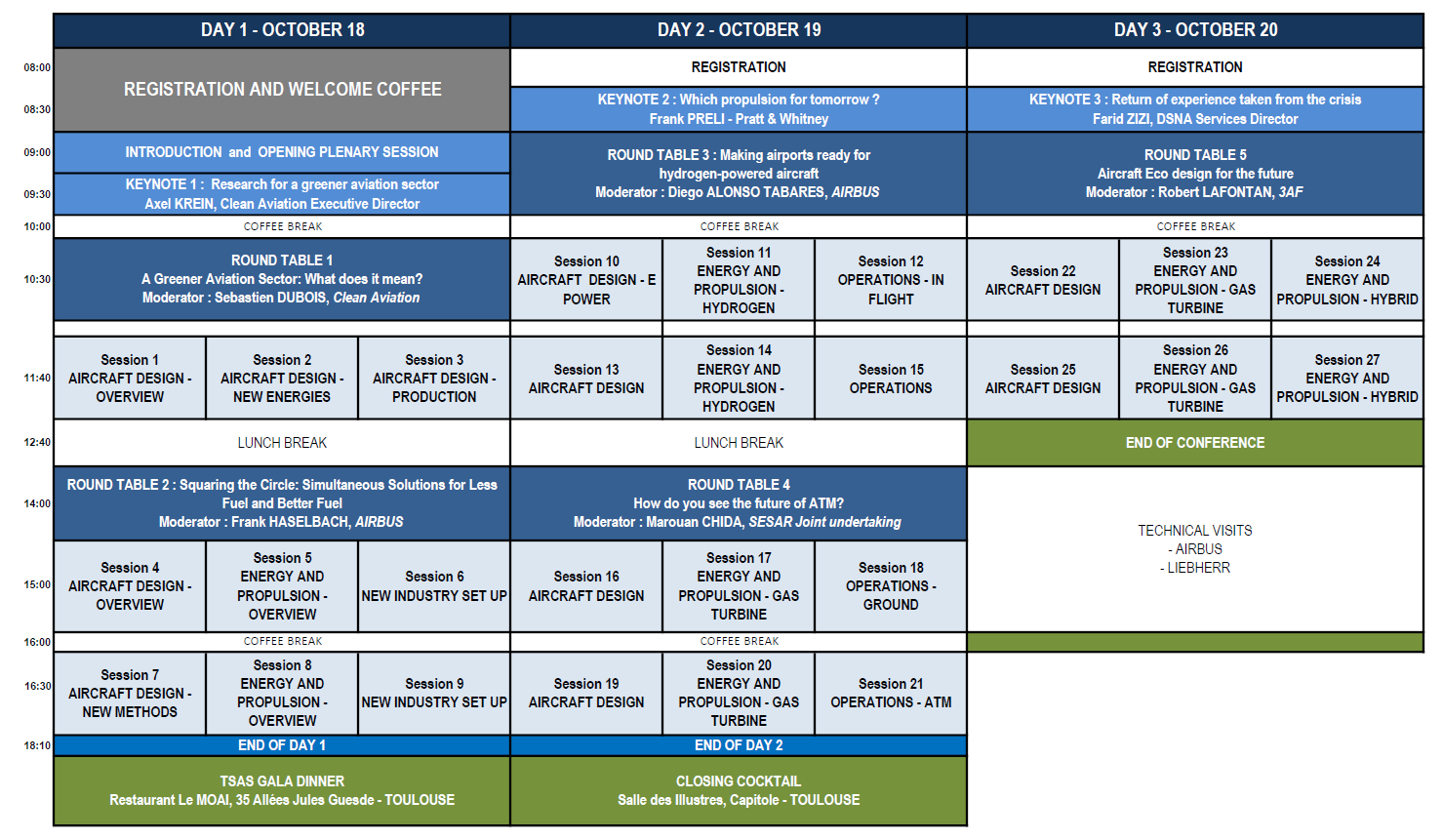 SOCIAL EVENTS
> Gala Dinner: Tuesday, October 18th - from 19:45
Restaurant Le MOAI (Toulouse Museum), 35 Allées Jules Guesde - TOULOUSE
> Closing Cocktail: Wednesday, October 19th - from 18:30 to 20:00
Salle des Illustres (Capitole), Place du Capitole - TOULOUSE
As social event venues are accessible by public transportation, please be aware that the transport from Conference venue and back is not provided by dedicated shuttle.
TECHNICAL VISITS
Two technical visits are organized in parallel on Thursday 20 October from 14:00 to 16:30
- AIRBUS : Visit of A350 Final Assembly Line (50 participants max)
- LIEBHERR : Visit of Liebherr Aerospace Toulouse ISA Development Test Center : A contribution of aircraft systems and equipment manufacturers to the aircraft decarbonation (40 participants max)
Due to security reason, registration through your online account will be mandatory to access the visits.
Roundtrip bus transfer from Pierre Baudis Congress Center. Departure at 14:00 precise
Stops at Toulouse airport and train station are scheduled on the way back.
List of topics to be adressed for the TSAS 2022 Conference